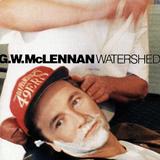 You may have heard of the untimely death of one G.W.Mclennan of the Australian group The Go-betweens.
I was privileged to record an album Snow Job for this great lyricist and songwriter in the early nineties.
He was such a incredible gentleman of the sort that is now rare and which I can only aspire too.
A true romantic, a lover of love,music, women and books not nec. in that order.
We used to sing great harmonies together.
You were always a pleasure to spend time with.
You introduced me to some other great musicians and friends and novelists.
The candle that burns twice as bright only burns half as long I guess.
Hope you are hanging out with George Harrison and Kurt Cobain.
You left your mark on us and the world.
Be seeing you.